The solidarity fairs are back at RoniAventura!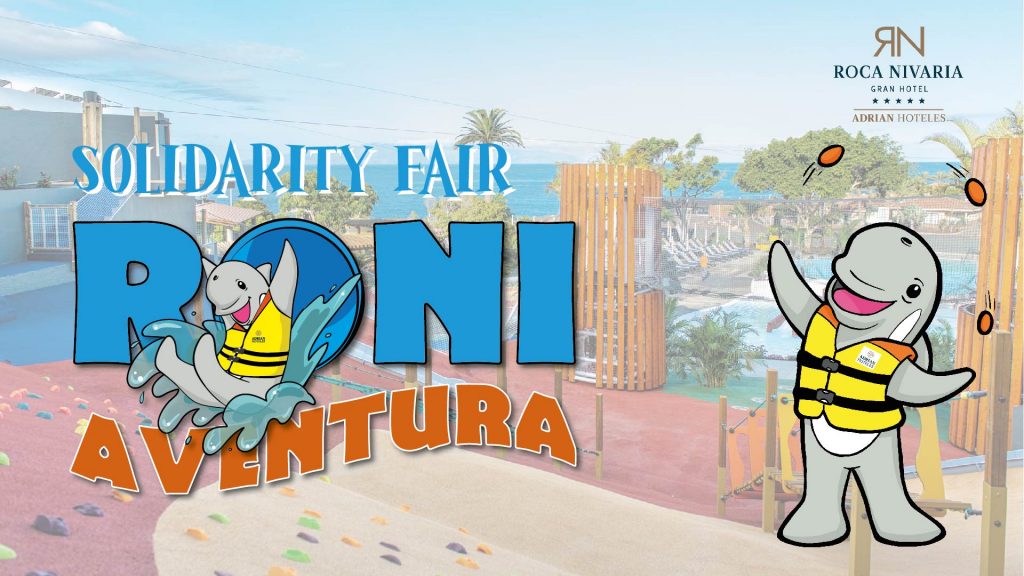 We have prepared a very special month in our multi-adventure park #RoniAventura. On the 10th, 17th, and 24th we will have our big Solidarity Fair. Enjoy a day full of activities and games with your family.
What can you find if you come to enjoy a holiday with us?
Our popular multi-adventure park Roniaventura has waterslides, heated swimming pools, water games, climbing walls, hanging bridges, and even a zip line!
In addition, you can participate in the charity fairs on those days with different activities that we have prepared for you such as: duck fishing, face painting, tug of war, "Splat the Hotdog", water bingo and much more…
Not forgetting the magnificent closing of the day: our mini-disco, where you can show your best choreographies together with our great friend Roni.
Remember that all proceeds from these fairs will be donated to the projects of our Adrián Hoteles Foundation, whose main purpose is to support other entities for the development of activities to improve the needs of the most disadvantaged people.
These events are exclusive for people staying that day in our Roca Nivaria GH 5*. So book now on our website and enjoy a unique day in our hotel:
Hotel Roca Nivaria GH | Playa Paraíso | Adeje | Tenerife | Official website
We are waiting for you!
Categories: Adrian Hoteles, blog, Fundación Adrian Hoteles, hotel home, Hoteles, hotels, Mascota RONI, roca, Roca Nivaria GH, Roca Nivaria GH 5*, RoniAventura, rooms, services, Tenerife, tourism, visita tenerife
« Join our team in #RFTC2022
Halloween is coming to Roca Nivaria GH! »