Our mascot RONI is celebrating his birthday!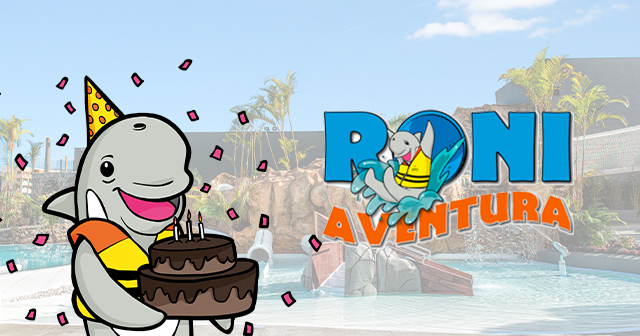 Next 14th August is a very special day, our great friend and faithful mascot of Roca Nivaria GH, will celebrate his birthday!
And like for any birthday party, there will be a big celebration.
The party will start in RoniAventura, our multi-adventure park focused on family fun, where everyone can participate in a charity fair with multiple activities: face-painting, ball shooting, duckfishing, bingo, races, …..
All profits will go to the ADRIAN Hoteles Foundation, a non-profit organisation created in 2017 whose aim is to support other entities for the development of projects to help disadvantaged people, especially in the field of the youth and the elderly.
In addition, throughout the day you can also enjoy the RoniAventura wet area with two swimming pools and up to 4 slides, different water jets, a sunken ship and water games to keep you cool.
If you don't like getting wet, but adventure is your thing, the dry zone is perfect for you, where you can scale the climbing wall, cross hanging bridges, go down slides or a zip wire and other activities for all ages.
Lovers of relaxation can enjoy in the large solarium with hammocks, shaded areas, bar and good views of the sea.
And if that wasn't enough, in the afternoon it will be time to sing "Happy Birthday" and RONI will invite all the children to share his birthday cake so they can recharge their batteries to continue with the foam party.
At the end of the day there will be a ¡¡MINIDISCO!!! to dance with RONI and show off your best moves.
This event is only accessible to all those staying that day in our Roca Nivaria GH. So don't miss this wonderful day.
Come and enjoy a unique and special day!
Book your stay now!
Categories: Adrian Hoteles, blog, booking, Fundación Adrian Hoteles, Mascota RONI, Roca Nivaria GH 5*, RoniAventura
« ADRIAN Hoteles the best hotels in Spain by KAYAK Travel Awards 2022
ADRIAN Hoteles receives the award "Top Hotel Partner 2022″ »