ADRIAN Hoteles receives the award "Top Hotel Partner 2022"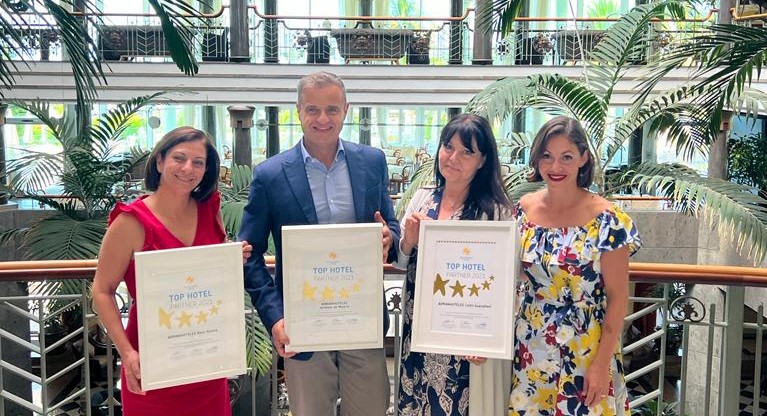 We continue to collect awards and on this occasion, the ADRIAN Hoteles family receives the "Top Hotel Partner 2022" award from the German tour operator Schauinsland-Reisen for all our hotels.
This recognition rewards the integrity, loyalty, collaboration and trust placed in us, as well as the appreciation of our frequent guests. Schauinsland-Reisen is one of Europe's leading TT.OO. It ranks fifth among German airline tour operators, while in Europe it is one of the top 20 tour operators.
The award ceremony highlights the quality of the hotels as tourist establishments and the professionalism of the services provided within Jardines de Nivaria 5*, Roca Nivaria Gran Hotel 5* and Colón Guanahaní 4*, making it clear that the focus remains the same: Three hotels, three styles, one philosophy.
This great year full of achievements we can highlight that thanks to the obtaining of these three "Top Hotel Partner 2022" we now have a total of 14 awards received by Schauinsland-Reisen.
This award confirms the hard work and effort of our team to offer the best service to our guests. We are proud to receive these awards and to have our guests as a member of our family.
Categories: Adrian Hoteles, Aviso importante, awards, blog, Colón Guanahaní, Hoteles, Jardines de Nivaria 5*, Roca Nivaria GH 5*, Tenerife
« Our mascot RONI is celebrating his birthday!
Come and enjoy Adeje in September »