ADRIAN Hotels joins the Cory's shearwater bird protection campaign of "El Primer Viaje"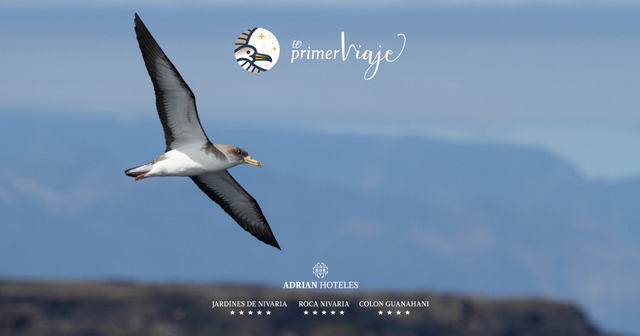 ADRIAN Hotels has joined "El Primer Viaje", a Canarian organisation with an initiative for the protection of the Cory's shearwater and other seabirds of the Canary Islands.
Our compromise and responsibility for sustainability has already led us to act in fields such as the reduction of atmospheric emissions, the reduction of waste and the consumption of water and chemical products, among others. Now we are also trying to intervene in one of the specific problems of the biodiversity of our territory.
Every year thousands of Cory's shearwaters, a protected species included in the List of Wildlife Species and in the Canary Islands Catalogue of Protected Species and the most abundant in the Canary Islands, come to our coasts to breed. It breeds on cliffs, ravines and midlands and when the young have grown, their parents leave the nest and they must begin their first flight towards their natural habitat: the sea. For their first journey, they are guided by the moon and the stars and it is at that moment when the artificial lighting of our coasts causes them to become disorientated and they fall to the ground. They are seabirds and do not have the capacity to take flight again from land, so they are exposed to other threats such as being run over and predation. This is a massive phenomenon every year, which occurs in the Canary Islands at the end of October and beginning of November.
The participation of our three hotels Jardines de Nivaria, Roca Nivaria GH and Colón Guanahaní in the initiative El Primer Viaje has two fundamental objectives: on the one hand, to undertake measures in our facilities to protect the birds, reducing the outdoor lighting and activating protocols that, in the event of a fall, allow them to be recovered safely and in the shortest possible time, and on the other hand, to implement information and awareness campaigns for our employees and guests about the problem of this species. Therefore, the first action to be carried out in our hotels will be not to turn on the lights of our tennis courts this week, so as not to interfere with their first trip.
These actions on the biodiversity of our territory have a clear approach to the Sustainable Development Goals (SDGs), taking into account Goal 13, 14 and 15. But mainly focused on the protection of terrestrial and marine ecosystems, allowing us to move towards a more sustainable tourism and exposing our commitment to give effective and honest response to the challenges that our business activity poses us.
For more information visit:
Follow El Primer viaje on their social networks:
www.instagram.com/elprimerviaje.canarias
www.facebook.com/elprimerviaje
Categories: Adrian Hoteles, Aviso importante, blog, campaigns, Colón Guanahaní, Environment, home, hotel home, Hoteles, hotels, jardines, Jardines de Nivaria, Jardines de Nivaria 5*, roca, Roca Nivaria GH, Roca Nivaria GH 5*, services, Sostenibilidad, Tenerife, tourism, Uncategorized, visita tenerife
« Halloween is coming to Roca Nivaria GH!
(Español) BLACK FRIDAY 2022 »