We are Cycling Friendly!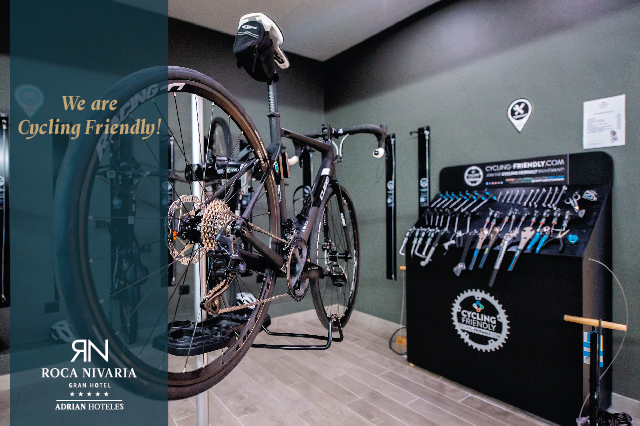 Roca Nivaria Gran Hotel 5* is the ideal place for a cycling vacation.
Undoubtedly the best starting point to enjoy and get to know Tenerife through different routes. We meet all the needs that cyclists need to enjoy leisure, fun and relaxation.  A perfect combination of comfort in a 5 star hotel with fully equipped rooms.
Cycle and feel that you are in a unique place in Europe surrounded by volcanoes, with the Atlantic Ocean as a backdrop. At the end of your route, return to our hotel, relax, share all the sensations you have experienced and get ready for the next adventure.
We have a gym, Spa, several swimming pools (one of them with salt water), a beautiful seafront promenade and a small beach that can be accessed directly from the hotel.
We are certified as Cycling Friendly GOLD and in the hotel itself, you will find a space where you can "park" keep your bike secure, as well as a workshop with all the necessary tools to repair it or get it ready for your next outing.
We are an island where "Winter never comes", with climbs that can take you from sea level to 2,000 meters, undulating coastal roads and an incredible diversity of landscapes and microclimates, the island of Tenerife is a cyclist's paradise.
If you want to enjoy luxury, good weather and many kilometers of cycling, Roca Nivaria GH is the ideal choice. Don't think twice. We are the perfect place for you to enjoy your passion for cycling, with all the guarantees and needs, taken care of.
We are waiting for you at Roca Nivaria!
Categories: Adrian Hoteles, blog
« Reopening of our Restaurante La Cúpula
The Adrián Hoteles Foundation promotes a blood donation and bone marrow donation campaign. »