All our hotels have received the "HolidayCheck GOLD Award 2023".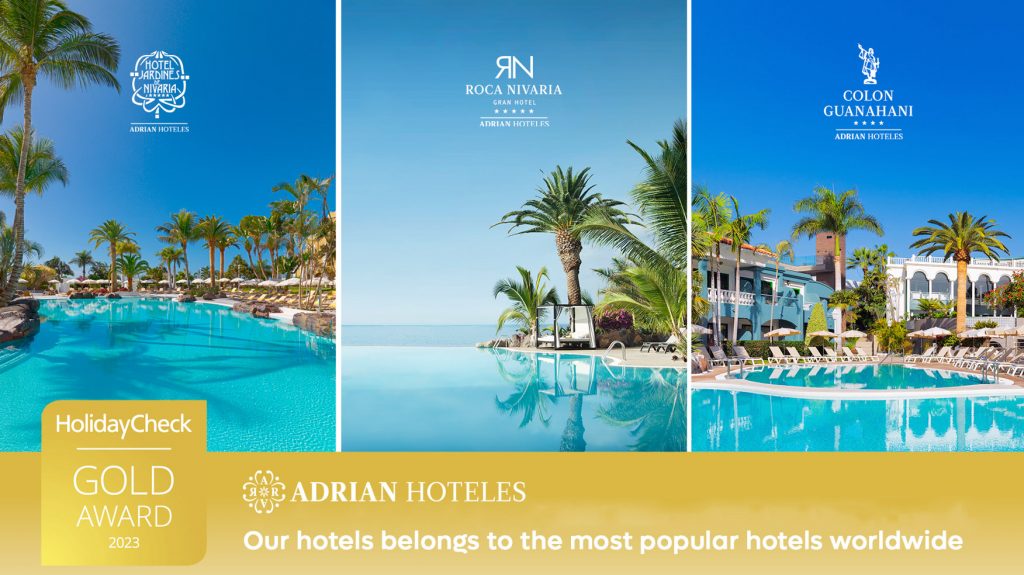 Our hotel chain is the only one to have achieved the Gold Award in all three hotels.
This distinction is awarded to those hotels that have achieved the HolidayCheck award for at least 5 consecutive years. Only 6 hotels in Tenerife have received this award, 3 of which are our hotels.
HolidayCheck, the German-speaking online booking and review portal, enables every tourist to find and book the right holiday individually thanks to authentic reviews, the expertise of the company's own travel agency and the knowledge of the community.
The main award criteria is based on the recommendation rate, which must average at least 90 per cent. In this case Jardines de Nivaria has a score of 98% and Roca Nivaria GH and Colón Guanahaní with 97%. In addition, the hotels must also comply with the Code of Conduct and it is important to note that the award is decided exclusively on the basis of the tourists' ratings. HolidayCheck has no influence on the award and to guarantee the authenticity of the reviews, all reviews go through the verification system.
Thanks to all the opinions received in the previous year it has been possible to draw up this new ranking where we find:
– Roca Nivaria GH 5*: number one in the ranking of the 171 hotels in Costa Adeje and the first in the category "All Inclusive" with Gold Award in Spain.
– Jardines de Nivaria 5* is ranked 5th in Tenerife and 7th hotel with the Holidaycheck Gold Award in Spain.
– Colon Guanahní 4* – Adults only is in 8th place on the island.
Our main goal is, without any doubt, to work every day to ensure that our clients enjoy their well-deserved holidays and that their opinions help to contribute to the path of excellence without losing the personalised attention.
Once again, we would like to thank our clients for the trust they put in ourselves and for their very positive reviews, as well as the work of the professional team that works in each of the hotels.
Categories: Adrian Hoteles, awards, blog, Colón Guanahaní, Comercial, corporate, Holidaycheck Gold Award 2019, Hoteles, Jardines de Nivaria, Premios, Roca Nivaria GH 5*, Tenerife, tourism
« Celebrate Valentine's Day at ADRIAN Hotels
Get to know our ADRIAN Hoteles Foundation »