Get to know our ADRIAN Hoteles Foundation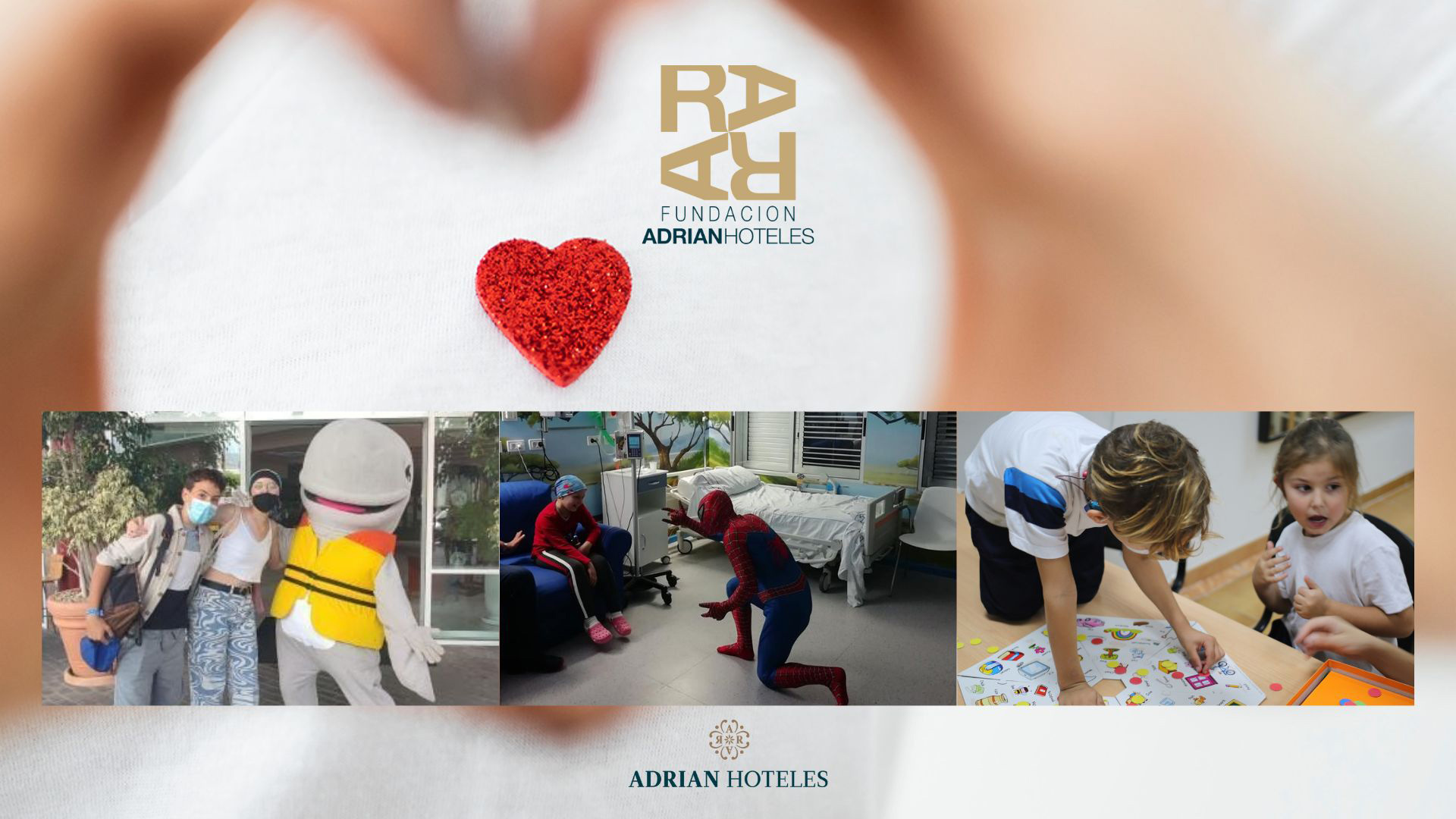 The ADRIAN Hoteles Canarian Foundation is a non-profit institution created in 2017 by the Adrián family. Its main object and purpose is to support other entities for the development of activities and projects to improve the social, economic and educational needs of people and sectors of the disadvantaged population, or those who are at risk or vulnerable, mainly in the field of children and the elderly.
It has also been collaborating for years with various associations and foundations, such as:
The Foundation also collaborates in different campaigns and projects, among which the following stand out:
1. Financial coverage for the specialised therapies necessary for the children of some 20 families with financial difficulties to the Association for the attention to diversity – "Agora Treatment Centre".
2. Remodelling project of the Paediatric Day Hospital of the University Hospital Nuestra Señora de Candelaria. We also made available a house in Madrid to provide accommodation for the families of hospitalised children in the Canary Islands.
3. Purchase of 6 folding armchairs that convert into individual beds, for the rooms of patients in the paediatric oncology department, with chronic multi-pathologies, who spend long periods of time in the Hospital Universitario de Canarias.
4. They collaborated to provide resources to HAMBRECERO by sending food and medicines to Ukraine.
5. Every year the Foundation joins the solidarity race organised by the Canarian Foundation "Carrera por la vida" (Race for life).
6.The Adrián Hoteles Foundation, together with the Instituto Canario de Hemodonación y Hemoterapia, promotes a blood and bone marrow donation campaign, together with the associations Ashotel and Gehocan, to expand the network of donors in the Canary Islands through the hotel sector.
7. They have met Águeda through Make A Wish, a 17 year old girl with an oncological disease, and have been able to make her dream of visiting Tenerife come true. We offered her and her family a 4-day stay at Roca Nivaria GH, part of the Adrián Hoteles group.
In order to be able to maintain and grow in the projects carried out, partners are also needed. If you are a company, you can also make your contribution and show your solidarity. In addition, you can obtain certain tax benefits, as the Foundation provides a Certificate of Social Responsibility, as well as a Certificate of Donation to deduct from your Corporate Tax or Personal Income Tax.
If you want your company to be part of our Solidarity Companies, ask for information to mnin@fundacionadrianhoteles.org
The ADRIAN Hotels Foundation is grateful for any contribution, however small it may be, as it contributes to making projects that improve the lives of many people a reality. You can contribute your grain of sand through Bizum with the code 05974 or on the website: www.fundacionadrianhoteles.org
There can be no greater gift than giving time and energy to help others without expecting nothing in return. -Nelson Mandela
Categories: Adrian Hoteles, blog, Fundación Adrian Hoteles, Hoteles
« All our hotels have received the "HolidayCheck GOLD Award 2023".
(Español) Proyecto Instalación Fotovoltaica Roca Nivaria GH »