Come and have fun with us this Christmas at Roca Nivaria Gran Hotel!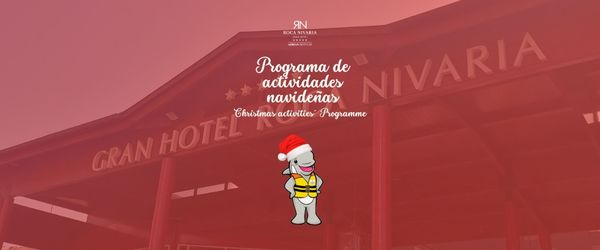 This Christmas we have prepared for you a programme of activities where fun is the main character.
Here is a summary of some of the most important activities, but that's not all. Are you going to miss it?
23rd December:
– We will make a Christmas card to wish Father Christmas a Merry Christmas.
– In the afternoon, Roni will visit RoniAventura to collect the postcards and there will be different games.
24th December:
– In the Miniclub, Christmas stones will be painted as decoration for the arrival of Father Christmas.
– A host of aquatic family activities at RoniAventura.
– At 17:00 Father Christmas will arrive at RoniAventura and spend some time with the children. Have you got your letter ready?
25th December:
– It will be a family day full of activities at RoniAventura.
– Also in the Miniclub, there will be crafts and games for the little ones.
From 26th to 31st December:
– A mural will be made to welcome the new year.
– Accessories for the New Year's photocall will be created.
– Fireworks will be painted in a fun way to welcome the New Year.
– And as always lots of activities, crafts and games.
31st December:
– We start at 10:30 with our well known Solidarity Fair at RoniAventura with thousands of activities.
– At 15:00 we will say goodbye to the year in style with water games, activities… and many more surprises!
– And to end the year, at night in the submarine of our buffet, we will have a Just Dance competition, may the best one win!
1st January:
To start the year, what better than to enjoy a day full of activities.
Let's welcome the year 2023 as it deserves!
Don't miss it, we'll be waiting for you!
Book your stay now: Hotelrocanivaria.com
Categories: Adrian Hoteles, Navidad, roca, Roca Nivaria GH, Roca Nivaria GH 5*, RoniAventura
« (Español) Entrega de distinciones de la iniciativa El Primer Viaje
La Cúpula Restaurant recommended in the Michelin Guide 2023 »